Gardens Volunteers
There are many opportunities for volunteers to be involved in the work of the Gardens and, in general, there are no pre-requisite qualifications other than an interest in botanic gardens and their work. The Gardens provides training for volunteers related to the tasks with which they are involved.
Volunteers have assisted the Australian National Botanic Gardens on an informal basis since the Gardens was first established in 1949. The Gardens, and its sister organizations the Centre for Australian National Biodiversity Research and the Australian Biological Resources Study, now have around 150 volunteers working in areas such as the Herbarium, seed bank and library. Volunteers also operate a Volunteer Guides Service and the Growing Friends, a group within the Friends of the Gardens, grow plants for fund-raising.
There are also opportunities for professional Associates to undertake specified research projects.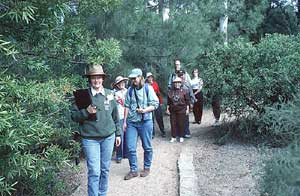 Volunteer Guides lead tours around the Gardens.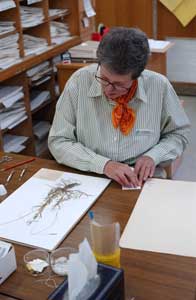 Volunteers work in the Herbarium mounting specimens.
The Gardens' volunteers and Associates operate under policy guidelines set by our parent organisation, Parks Australia.
As a volunteer you can expect:
a supervisor to assist with enquiries and provide any training necessary for your work;
safe and healthy working conditions, in line with standards required for paid staff;
insurance cover for accidents while you are directly engaged at your work with ANBG; and
rewarding work.
Volunteers also have responsibilities. These include:
Completing a Volunteer Agreement and Induction Checklist with a member of staff;
Disclosing any medical condition that you may have that could affect your duties;
Following any reasonable directions that your supervisor or an authorised member of staff gives in relation to health and safety. You must consider your own safety and well-being, as well as that of others;
Respecting any conditions of work outlined to you by your supervisor, or another authorised member of staff, including attendance at training sessions as required;
Respecting all security arrangements and restrictions on the use of equipment outlined by your supervisor, or another authorised member of staff;
and
Your agreement not incur expenditure or make any statements on behalf of ANBG or Parks Australia.
Parks Australia reserves the right to end your engagement as a volunteer by written notice if you do not abide by these guidelines.
Volunteers are recruited based on the requirements of the participating sections of the Gardens. Volunteer opportunities exist in the library, Seed Bank, herbarium, public programs and education sections. There are currently no volunteer opportunities directly related to gardening and horticulture.
There are no pre-requisite qualifications other than an interest in people, botanic gardens and their work.
Associates undertake specific research projects and are selected on the basis of their technical experience and the projects they wish to undertake.
A new intake of Volunteer Guides will open 7 September for applicants.
Being a Volunteer Guide at the Gardens is a rewarding experience for people who are interested in Australian plants, enjoy being outdoors, enjoy spending time with other like-minded people, would like to expand their skills and knowledge in new areas and like meeting Australian and international visitors.
No previous botanical background is required. An intensive training program is part of the new guide intake. Resource materials are available to Guides and ongoing Professional Development equips you with the knowledge and skills you need to prepare your walks.
Information sessions for people interested in volunteer guiding at the Gardens will occur, on following dates:
12:30 pm - Tue 29 Sept
5:30 pm -  Wed 30 Sept
Selection interviews will take place on the following dates (additional times if required):
Mon 9 and 16 November - 11.00 am to 5.00 pm
Wednesday 11 and 18 November - 9.00 am to 5.00 pm
Becoming a guide at the ANBG 2015 (PDF - 374.04 KB)
Application form to become a guide at ANBG 2015 (PDF - 199.19 KB)
The Gardens provides training for volunteers related to the tasks with which they are involved. Most volunteer training is largely 'on-the-job' working directly with a volunteer supervisor. Successful completion of a guide training course is required for Volunteer Guides.
Registered volunteers are deemed to be employees under the Commonwealth Employees Rehabilitation and Compensation Act 1988 and the Safety, Rehabilitation and Compensation Act 1998 and are insured by Comcare, subject to the conditions of these Acts. Volunteers are protected from liability claims under the conditions outlined in the Commonwealth Volunteers Protection Act 2003.
For further information on volunteer opportunities at the Gardens contact:
Volunteer Coordinator
Australian National Herbarium
(02) 6246 5127